Drug Court Problems and Reforms During the National Opioid Crisis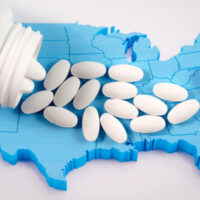 The drug court statute was last amended in 2012. For all its positive impact in New Jersey, it has serious limitations that prevent it from responding to the growing opioid crisis. Drug court needs comprehensive reform that empowers its response to the opioid crisis. That's why Thomas Roughneen & Associates supports Bills S491 and S241, two bipartisan bills to reform New Jersey's drug courts.
First, the bills expand access by removing certain absolute bars to admission. For example, convictions or juvenile adjudications for aggravated assault and limits on the number of prior convictions would no longer prevent applicants from being considered for admission to drug court. Currently, even when prosecutors and judges agree that an offender should be admitted to drug court, absolute bars often prevent them from admitting the offender.
Second, the bills give the judge more discretion in keeping participants in drug court. Current law revokes a participant's position in drug court after he or she violates probation for the second time. This statute is inconsistent with national best practices, which find that offenders often relapse two or more times before completing treatment for drug addiction.
The bills also reduces excessive punishment when participants fail to complete drug court. As stated above, national best practice finds that relapse is common when recovering from a drug addiction. Too often, individuals who fail to complete the program successfully receive harsher sentences than they would have if they went directly to jail. This excessive punishment prevents individuals from reattempting the program in the first place and gives drug court a reputation for being unfair, making it difficult for defense attorneys to convince applicants that drug court is a viable option for recovery.
Finally, the bills eliminate technical barriers to expungement. A study completed by Professors J.J. Prescott and Sonja Starr from the University of Michigan Law School found that individuals with expunged records had low recidivism rates comparable to the general population, and that their wages increased by twenty-five percent within two years after receiving an expungement. Clearly, record expungement is too important for drug court participants to allow it to be blocked by technicalities.
Written by Katie Metzger, Loyola University Maryland, Third Year
Disclaimer: The opinions shared in this article are the opinions of the author and do not reflect the opinions of Loyola University Maryland.