Transgender Man Approved For USPHS
As Assistant Secretary for Health, ADM Rachel Levine fights every day to improve the health and well-being of all Americans. She's working to help our nation overcome the COVID-19 pandemic and build a stronger foundation for a healthier future – one in which every American can attain their full health potential, according to a statement in her HHS bio. ADM Levine also is the head of the U.S. Public Health Service Commissioned one of the eight uniformed services.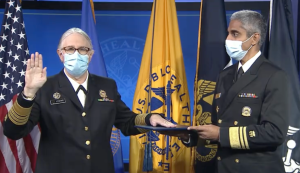 Here is Biden's appointee to wear the proud uniform of the United States Public Health Service.  I did not write to lead that organization whose members we have proudly represented.   Our thanks to the autocrat Pennsylvania Governor, Tom Wolf, for promoting this confused man to be the face of the Health Department there in 2020 and 2021.
Now we have Biden to blame for this pathetic loser's new job harming morale at USPHS.
By David Wenner | dwenner@pennlive.com
Dr. Rachel Levine, who has led Pennsylvania's response to COVID-19, has been chosen by Biden to be the US Assistant Secretary of health.
If he [she's] confirmed by the U.S. Senate, he [she'll] be among the highest-ranking openly transgender officials in the country.
WASHINGTON — Dr. Rachel Levine was sworn in Tuesday to the U.S. Public Health Service Commissioned Corps, officially becoming the first openly transgender four-star officer in the uniformed services and first female four-star admiral of the U.S.P.H.S.
In March, the U.S. Senate confirmed the former Pennsylvania Health Secretary to be the nation's assistant secretary of health.
She was the first openly transgender federal official to win Senate confirmation. The final vote was 52-48, mostly along party lines. Levine had been serving as Pennsylvania's top health official since 2017, and emerged as the public face of the state's response to the coronavirus pandemic.
Levine, born in 1957, was confirmed by Pennsylvania's Republican-controlled Senate as physician general in 2015. Gov. Tom Wolf moved her to her current post of state secretary of health in 2018.
Before that, she was a long-time pediatrician at Penn State Health Milton S. Hershey Medical Center, known for her expertise in helping young teens with eating disorders or who deliberately cut or otherwise hurt themselves.
Levine, who grew up near Boston, attended Harvard and Tulane University's medical school.
In a 2015 speech made while she was awaiting confirmation as physician general, Levine described living with a "secret" from an early age and decades of straining to fit in.
She told of attending an all-male private school and playing hockey and football as a linebacker.
Describing her feelings as a child, she said, "All I knew is I wanted to be a girl, or I was a girl, or female."
She said she managed to channel much of her unease into her schoolwork, helping her to excel academically.
She told of reaching a personal crisis in her 40s while married with two children.
It drove her to therapy and attending meetings of TransCentralPA, a Harrisburg-based support and advocacy organization for transgender people.
"What it comes down to is I decided to live my life with no secrets … with no fear," she told an audience at an international conference held by TransCentralPA.
As with many officials across the country who supported steps such as restrictions on businesses to combat the coronavirus, Levine has experienced hateful online attacks and threats which have prompted state police presence in her neighborhood.
Pennsylvania has been a leading state in terms of total COVID-19 cases. However, as much of the country experiences a post-holiday spike in new cases and stress on their health care systems, new cases and hospitalizations have dropped significantly in Pennsylvania since early January.
Levine said the state will soon be undertaking more steps to speed up the distribution of COVID-19 vaccines, including making vaccines available at retail pharmacies and holding what she called "mass vaccination clinics."
Patty Murray rebukes Rand Paul for 'harmful misrepresentations' at historic confirmation hearing for Rachel Levine
By Clare Foran, CNN
Updated 10:05 PM ET, Thu February 25, 2021
(CNN)A Senate confirmation hearing is now underway for Rachel Levine, Joe Biden's pick to serve as assistant health secretary, who would make history as the first out transgender federal official to be confirmed by the Senate.
Democratic Sen. Patty Murray, the chair of the Health, Education Labor and Pensions Committee, rebuked GOP Sen. Rand Paul, saying that he had made "harmful misrepresentations" after he appeared to equate gender confirmation surgery with "genital mutilation."
Paul began his questioning by saying, "genital mutilation has been nearly universally condemned," and then went on to say, "Dr. Levine, do you believe that minors are capable of making such a life changing decision as changing one's sex?"
Levine responded by saying, "Transgender medicine is a very complex and nuanced field with robust research and standards of care that have been developed. If I am fortunate enough to be confirmed as the assistant secretary of health, I will look forward to working with you and your office and coming to your office and discussing the particulars of the standards of care for transgender medicine."
Later, Murray criticized the line of questioning, saying to Levine, "I appreciated your thoughtful and medically-informed response to Sen. Paul's questions earlier in the hearing. It is really critical to me that our nominees be treated with respect and that our questions focus on their qualifications and the work ahead of us rather than on ideological and harmful misrepresentations like those we heard from Sen. Paul earlier and I will focus on that as chair of this committee."
The hearing to consider Levine's nomination comes the same day that the House is slated to vote on the Equality Act, which will amend the 1964 Civil Rights Act to protect people from being discriminated based on sexual orientation and gender identity in employment, housing and other services as well as access to public accommodations such as restaurants.
On Thursday afternoon, Senate Majority Leader Chuck Schumer addressed some of the "despicable comments made by a few Republicans about trans people," without naming them. "Their attacks on trans people in the transgender community are just mean. Mean," the New York Democrat said sternly. "And show a complete lack of understanding, complete lack of empathy. They don't represent our views and they don't represent the views of a majority of Americans. Their despicable comments just make my blood boil with anger. If I didn't have a mask you could see my teeth gritting," he said at a news conference ahead of House passage of the Equality Act.
Levine previously served as the Pennsylvania health secretary under Democratic Gov. Tom Wolf's administration.
"Dr. Rachel Levine will bring the steady leadership and essential expertise we need to get people through this pandemic — no matter their zip code, race, religion, sexual orientation, gender identity, or disability — and meet the public health needs of our country in this critical moment and beyond," Biden said in a statement on the nomination at the time it was announced. "She is a historic and deeply qualified choice to help lead our administration's health efforts."
This story and headline have been updated with additional developments Thursday.
CNN's Ali Zaslav, Daniella Diaz, Chandelis Duster and Kate Sullivan contributed to this report.