NJ's Red Flag law Burdens LEOs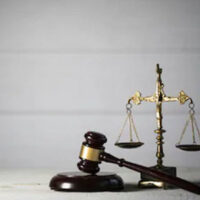 [The Second Amendment] guarantee[s] the individual right to possess and carry weapons in case of confrontation.  Associate Justice Antonin Scalia, District of Columbia v. Heller
Although it should be the exception, an Extreme Risk Protection Order (ERPO) can be a helpful tool when used properly by law enforcement and judges.  Sadly, we are not confident that NJ's statute offers sufficient protections from abuse from those with bad intentions.  As written, NJ's law enforcement officers (LEOs) and government officials will be forced into positions where they have to CYA, to use yet another acronym.  We have our doubts that LEOs, prosecutors and judges will be able to apply it consistently, objectively and reasonably before revoking one's rights pursuant to the Second Amendment.
Tellingly, if an ERPO is ultimately not entered, the statute omits how one recovers their weapon and possession is 9/10s of the law.
Any citizen can petition for one, including your disgruntled child or spouse.  For those subject to an ERPO, particularly for LEOs, the issuance of a Temporary Extreme Risk Protection Order (TERPO) will drastically alter their lives.  Under N.J.S.A. 2C:58-23, a TERPO can be entered if the respondent "poses a significant danger of bodily injury to self or others by having custody or control of, owning, possessing, purchasing, or receiving a firearm."  This statute requires law enforcement to confiscate your private and duty weapons if a court find that's the gun owner poses a danger to themselves and others. If entered against you, you are no longer able to carry a weapon and ultimately, cannot do your job.
We teach a course at Sheepdog Academy on Law Enforcement Officer Safety Act (LEOSA) and the federal law encourages trained LEOs to carry off-duty and in retirement.  Any time that a stranger can take a weapon away from a law-abiding citizen, or LEO, with or without expedited due process, we need to be cautious.  But let's be honest:  in anti-weapon NJ, it will take a bold LEO and an even bolder judge, to decline one of these petitions.
First, the process for filing and adjudicating a TERPO is similar to the process for filing and adjudicating a domestic violence order. One major difference is that the petitioner can also be a law enforcement officer.  Under the Prevention of Domestic Violence Act, the person filing for the Temporary Restraining Order (TRO) must be a family member, be in a relationship with the defendant or must have a child with the defendant.  When filing a TERPO, in contrast, the petitioner can be a law enforcement officer, a family member and/or a household member. Therefore, no relationship to the respondent is necessary.
Attached to the petition must be an affidavit stating the facts or incidents contributing to the belief that this person poses a danger. Similar to the process of obtaining a TRO, a judge will review the petition and after finding good cause, will issue the temporary protective order.  It is important to note that if the petitioner and/or witnesses are not available, the judge may rely on the affidavit filed by the petitioner when issuing the order.  Judges must consider a range of factors, including whether there is a history of "drug or alcohol abuse and recovery from the abuse."
If the judge decides to issue a TERPO, the respondent is then prohibited from having custody or control of a firearm and ammunition.  If a TERPO is filed against a law enforcement officer, the agency which employs the officer will be notified and the agency must initiate an internal affairs investigation. An officer should not be fired during the internal affairs investigation. Any action to be taken, will be taken once the internal affairs investigation is complete.  In the meantime, no weapons for the LEO.
The outcome of the investigation is to be served upon the County Prosecutor for a determination as to whether to refer the matter to the court. Regardless of the decision of the Prosecutor, the law enforcement agency is obligated to follow through and implement the findings of the internal affairs investigation.
We would love to hear your feedback at Veteran@CitizenSoldierLaw.com
Learn more about the law practice of Chrisann Wright, Esq. and Thomas Roughneen, Esq., at www.CitizenSoldierLaw.com